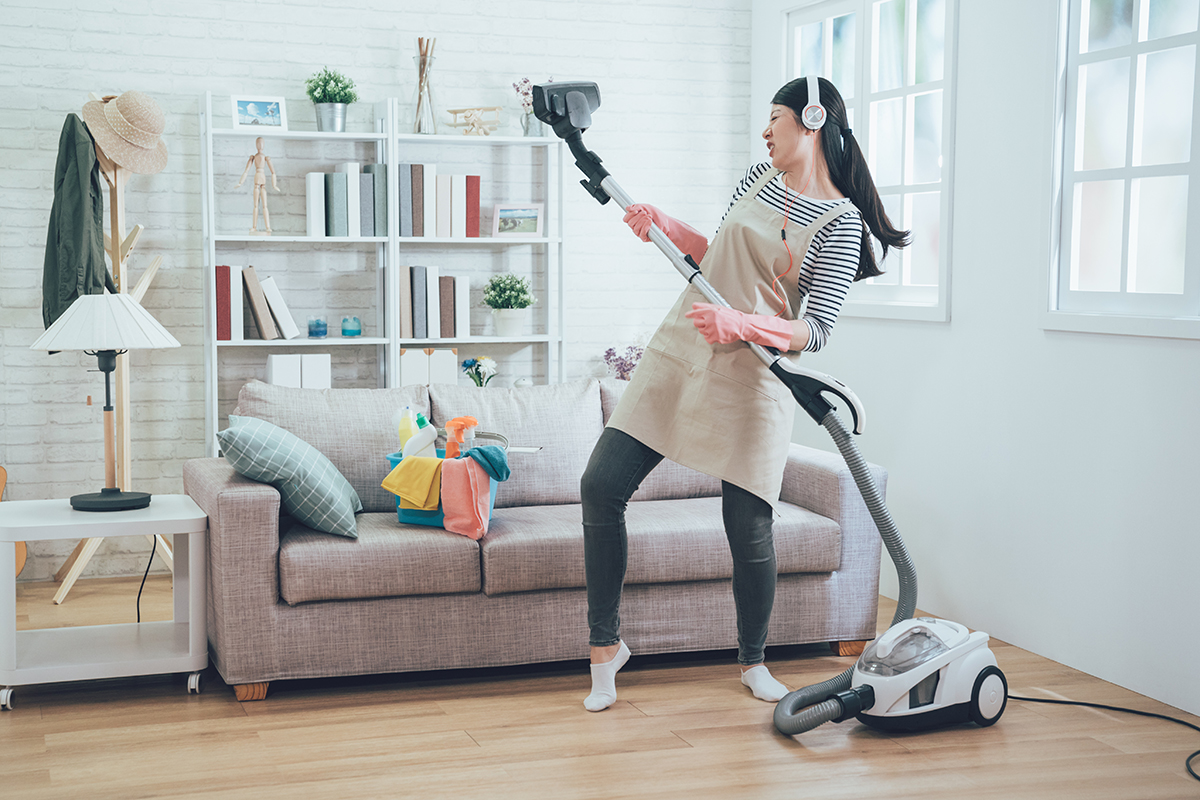 Jan
17
2019
10 Spring Cleaning Tips to Leave Your Home Feeling Fresh
There are many reasons why people spring clean. Traditionally it comes from the days when homes were heated by fireplaces and efforts were made to prevent heat from escaping. The coming of spring and warm weather was an opportunity to air the home and clean it of soot and the grime that accumulated over the winter months.
Today, many households use the spring clean as a way to let in fresh air, clean windows, and wash the hard-to-reach places so often neglected.
Preparation hacks for an easy spring clean
Whatever your reasons, here are some ways you can make the spring clean easier…
1. Get inspired
To get yourself in the mood for a good spring clean, pay a visit to a show home or open house. Seeing a fresh, clean, welcoming home will inspire you to want to clean yours. You can also spend some time researching 'minimalistic living' on Pinterest or Instagram for guaranteed inspiration.
2. Set a target date
When gearing up for the new year visitations, it is important to set yourself a realistic deadline for cleaning the house. You need to give yourself enough time to make sure the house is spick and span before inviting friends or family over. This added pressure shouldn't be enough to stress you, but it should be enough to keep you on track.
3. Make a to-do list
As you ponder how to prepare your home for a spring clean, make a list. Having a to-do list in front of you will help you determine priorities, estimate the time you'll need to do a thorough job, and list each cleaning task you need to get done room by room. For instance, in the kitchen you may need to wash the floor, clean the dishes, and wipe down appliances. You can estimate that this will take you at least one hour of time to get the best results.
4. Prepare a playlist
Your spring clean doesn't have to be tedious and boring. Put together a great playlist and it can be a fun way to listen to your favourite tunes. Studies show that music works wonders for productivity and listening to songs that you enjoy will help you perform tasks more quickly.
5. Purchase necessary supplies
Walk through your home and take stock of everything you might need for a thorough spring clean. From fresh rubber gloves and Multi-Surface Cleaner to trash bags, light bulbs and Laundry Detergent, create a spring clean box so you have everything you need at your fingertips.
6. Declutter
In the days before your spring clean, have a good declutter. Walk through your home with a basket and make sure you remove at least one item from each room. These can be items to sell, give to a charity shop, repurpose or throw away. Also clear out the fridge, pantry, wardrobe and furniture drawers. The fewer things you have the less there is to clean!
Another way to declutter is by category, making sure you take away at least one clothing item, book, kitchen utensil, memorabilia, toy etc. if you haven't used something in more than a year.  
7. Tackle one room at a time
Focus on one room at a time, leaving vacuuming and mopping until all rooms are done. Think about the scale of the room and the amount of time you have and align each space with your level of energy. Your spring cleaning will be much more enjoyable if you break it down into realistic steps.
Bring all furniture into the middle of the room if you can and wipe down the walls. If you can remove everything from the room this is even better as you'll be more selective about what comes back in.
If you're not sure if your paint will withstand a good wash down, spot test a part in the corner using detergent and a damp cloth. Choose a place that will be out of sight once the furniture is back in its rightful spot and wait for the wall to dry.
8. Print off our stain chart
We know there's nothing worse than doing the laundry, finding a stain and not knowing what to do with it, which is why we've created a stain remover chart for tackling dirt, food and grease. Simply print it out, slide it into a plastic sleeve or laminate it, and pin it up in your laundry. You'll then be well prepared for even the toughest stains.
9. Deodorise floor mats and curtains
Before you leave each room and start on the next one, take down any curtains and wash them using bio-home low-sud, indoor-drying Laundry Detergent. Made from biodegradable, 100% plant-based active ingredients, your curtains will smell lovely and naturally fresh.
For deodorising floor mats, sprinkle an even layer of baking soda and leave (preferably overnight). The baking soda will absorb any odours and naturally deodorise your home.
10. Leave the kitchen until last
The kitchen is the most used room in your home and as you spring clean you will be preparing snacks, taking dirty plates to the sink, getting drinks and prepping for meals. If the kitchen is one of the first rooms you tackle it will be disheartening to see it getting messy again. Wait until every room in the house is done and then grab our Kitchen Cleaner and go nuts!
Your final job will be to vacuum, sweep and mop. Our all-natural Floor Cleaner is suitable for most floor surfaces, including marble and parquet.
Ready to spring clean? You'll enjoy starting the year in a fresh and tidy environment. Visit our website to learn more about keeping your home clean with bio-home products today.