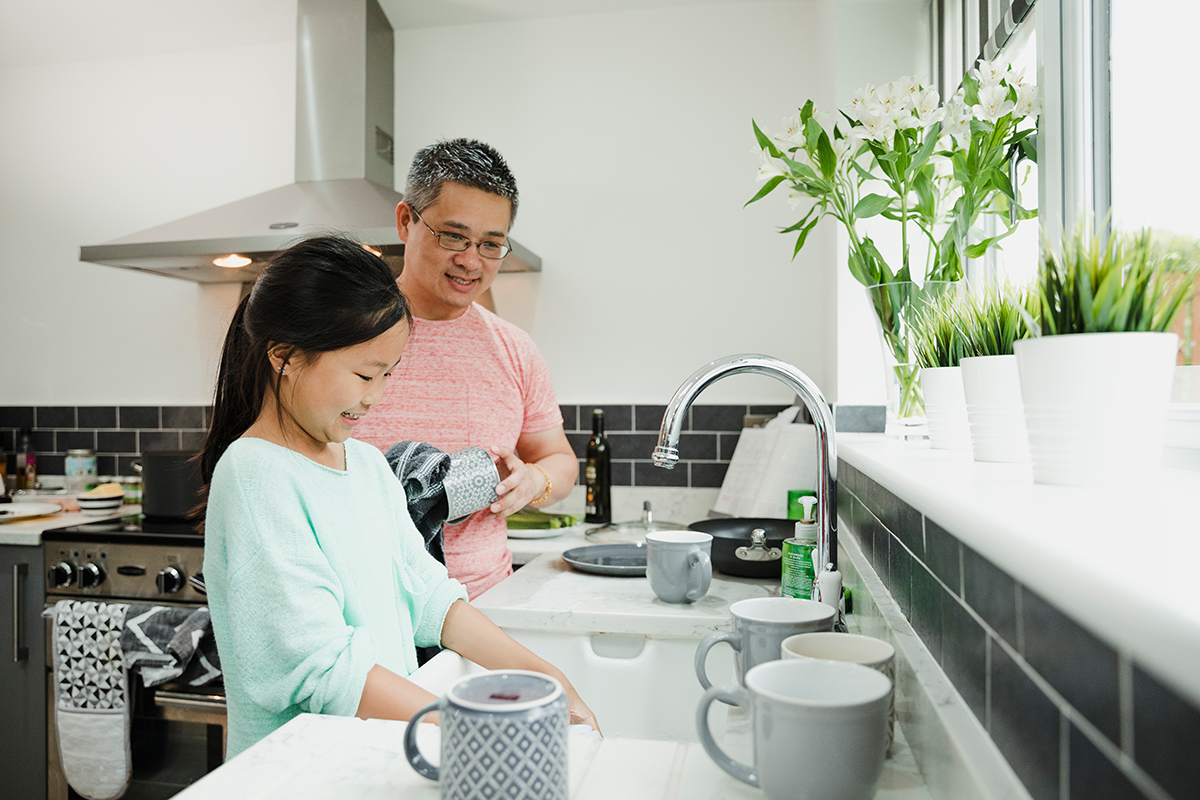 Dec
21
2018
9 Ways to Put the Fun Into Washing Dishes
When you're faced with scrubbing everything by hand, it pays to improve your dishwashing game. Let's face it – you've got better things to do than spend your time at the sink.
Washing dishes doesn't have to be a horrid chore. Turn dreary into cheery with these top tips for making dishwashing easier, and even a little fun!
1. Wash and rinse as you go
The number one tip would have to be to wash as you go. Get to your dishes before they have a chance to get crusty, and washing them is an absolute breeze.
Washing straight after you eat is probably the last thing you feel like doing. But get it done and you'll save yourself the headache at bedtime. You'll also protect your home from the germs that come when leaving dishes for the next day.
2. Arm yourself with the best tool for the job
Not all dishwashing liquid is created equal. Arm yourself with the best. Bio-Home Dishwashing Liquid is a concentrated, easy-rinse and low-foam formula that's innovative, eco-friendly and 100% plant based. Five times more concentrated than normal dishwashing liquid, each pump is enough to wash an entire load of dishes.
And did you know that Bio-Home Dishwashing Liquid can be used for more than just dishwashing? Because our liquid is mild, it works great as an all-purpose cleaner without the harsh chemicals. You can use Bio-Home Dishwashing Liquid as a:
Furniture cleaner: Add a small amount of liquid to a spray bottle filled with warm water to cleanse away dirt and grime. Wipe over the soapy surface and allow to dry naturally.
Stains: Dissolve 1 tablespoon of liquid into 2-3 cups of lukewarm water and carefully dab on stains using a clean cloth. Works wonders on oil-based stains and delicate fabrics like silk and wool.
Hair brushes: Get rid of wax and mousse residue by combining a few drops of liquid in a bowl of warm water and giving your hair brush a swirl.
Jewellery cleaner: Mix a small amount of liquid with water and soak jewellery for 5-10 minutes. If necessary, use a toothbrush to scrub out stubborn stains.
3. Wipe out bowls and reuse
When cooking, wipe out bowls with a piece of paper towel and reuse them. If ingredients are dry or not overly gooey, or if you are using the bowl in the same cooking session, why go to the trouble of washing the bowl or getting a new one? The less utensils you use the less you have to wash at the end.
4. Listen to podcasts
Finding time to sit down and listen to a good podcast is difficult. Why not make use of the time you have at the sink? Find a podcast you love and suddenly you're looking forward to doing the dishes!
If podcasts aren't your thing, listen to music as you wash. A good playlist will definitely make dishwashing more fun and it may even get you shaking your hips.
5. Watch TV
No, you don't have to have a TV in your kitchen to enjoy a bit of television as you wash. Simply prop an iPhone up by the sink and click on your favourite show. Choose something that doesn't require your full attention or choose something that absorbs you. Either way, you'll forget you're doing the dishes.
6. Start with a clean kitchen
If you start cooking and there's already plates piled up, you're only going to add to that mess. Start with a clean kitchen and you'll be more conscious to clean as you go. At the very least, start with an empty drying rack.
7. Go from largest to smallest
To save yourself from constantly rearranging dishes on a drying rack, clean and stack the largest pots and pans first and then work the smaller dishes in around them. Getting rid of the big stuff will also quickly reduce your pile, making your job of washing the dishes a little less overwhelming.
8. Boil water and salt to get rid of burn marks
You can thank Martha Stewart for this one – fill an offending pot or pan with cold water and 2-3 tablespoons of salt. Let it sit overnight and the next day bring to a boil, drain and then wash with soap. Much easier than scrubbing away at burn marks.
9. Say yes to help
When your friends come to dinner and offer to help you with the washing up, let them. Tackling the dishes with your friends will take no time at all and it's so much better than retreating to the kitchen once they've left. Get it done together and then enjoy one more wine as a reward.
The bottom line is that as long as you eat, drink and cook there will be dishes. There will also be a need for specialty cleaning products. Find the right product and you can tackle almost anything. You can even make cleaning more enjoyable.
Try Bio-Home's Dishwashing Liquid today and see how it successfully removes tough stains while protecting your skin and the environment. Choose Bio-Home and choose the economical and eco-friendly way!