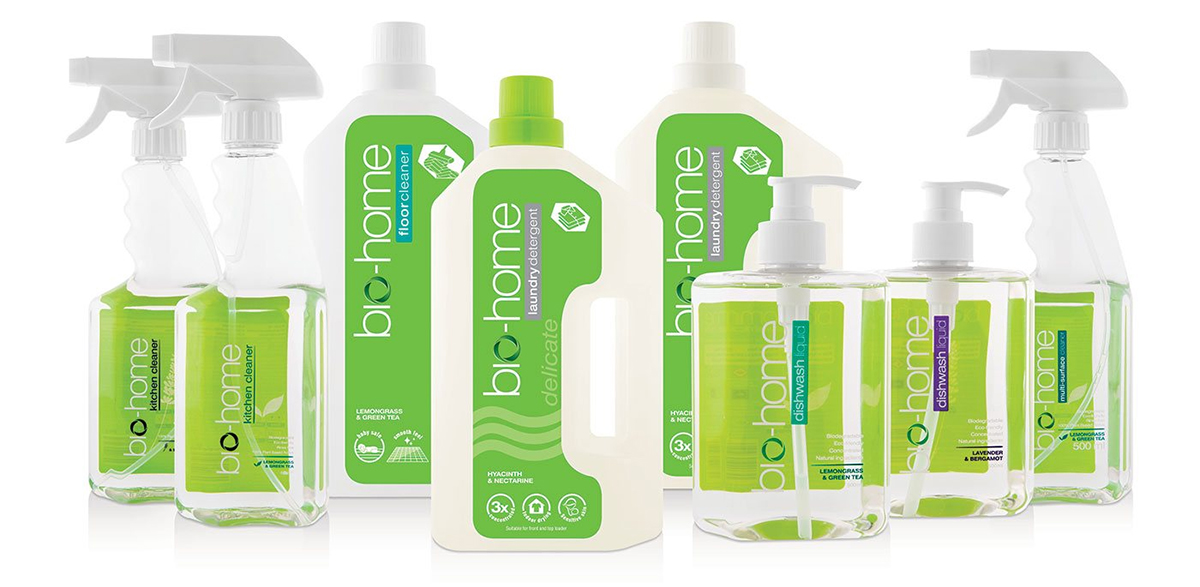 Jan
20
2018
What are the Benefits of Bio-Home Ingredients Compared to Conventional Cleaners?
We all know about the dangers of germs. Organisms such as bacteria and fungi can creep into your body and cause illness and infection, even from areas of your home which you thought were clean.
You can protect yourself from many germs by washing your hands regularly, using proper food handling techniques, and cleaning surfaces thoroughly. But prevention in the wrong form can be just as harmful.
While most popular household cleaners will kill germs effectively, some may contain toxic ingredients such as:
Phthalates – These are found in many 'fragranced' cleaners, and have been shown to be endocrine disruptors with the potential to damage the liver, kidneys, lungs, and reduce sperm count for men. Further research has linked Phthalates to obesity, breast cancer and asthma, too.
Quaternary Ammonium Compounds – Also known as "QUATS", these are found in some 'antibacterial' household cleaning products. Research has shown that these may encourage the development of antibiotic-resistant bacteria, as well as being a skin irritant and a leading cause of dermatitis.
Formaldehyde – Some common household cleaning products may contain small amounts of Formaldehyde, which research has linked to watery eyes, asthmatic attacks, skin irritation, nausea and headaches.
In other words, what's in your cleaning product cupboard can sometimes be just as harmful as the germs you are seeking to get rid of.
Safe cleaning
Cleaning is an essential part of a healthy life and regular cleaning must be performed to ensure your home is safe and germ-free. But it's crucial that you pay attention to the ingredients in your cleaning products and opt for bio-home products whenever possible. Here's why…
Bio-Home products are eco-friendly, biodegradable and safe. Made up entirely of plant-based actives, all bio-home products are 100% free of toxic chemicals yet still work effectively to clean the home.
Take our floor cleaner, for example. It's made from 100% natural renewable plant-derived active ingredients. The formula is rinse-free and quick-drying, making the home safe for babies and pets. The refreshing lemongrass and green tea scent leaves your home smelling clean and inviting. Bio-home floor cleaner is suitable for most floor surfaces, including polished marble and parquet, and gives floors a non-sticky, smooth feel. It's the perfect example of effective cleaning without the harmful chemicals. It's even dermatologically tested and suitable for sensitive skin.
Now let's look at our laundry detergent…
Research from the University of Washington analysed six top-selling laundry products and found that all six of them contained at least one toxic or hazardous substance. Scarily, none of these chemicals were listed on the product labels. The New York Times also reported that a popular American detergent contained high levels of a carcinogenic contaminant known as 1,4-Dioxane.
A typical laundry detergent may contain: fragrance, cleaning agents, stabilisers, bleach, 1,4-Dioxane, brighteners, phosphates and EDTA. These substances are bad for the environment as they can damage streams, waterways and ecosystems. As for your personal health, they may cause skin irritation, kidney damage, respiratory issues, and eye and lung irritation. Cleaning agents like petroleum distillates are linked to cancer too.
Bio-home laundry detergent contains non-toxic concentrates so it not only delivers effective washing results but restores the skin's natural moisture barrier. Its pH-neutral formula is made from 100% plant-based active ingredients and it's suitable for both top and front loader washing machines. Fragranced with natural essential oils and free from phthalates, the subtle hyacinth and nectarine scent leaves clothes smelling fresh and beautiful. Check out our Natural Laundry Detergent here!
One more…
Some bathroom and multi-purpose surface cleaners have been shown to contain 2-Butoxyethanol, which gives them their characteristic sweet smell. These 'glycol ethers' known commonly as '2-BE', are poisonous and can enter the body through the skin or through swallowing or inhalation. Headaches, irritated eyes, runny nose, nausea and fatigue are common symptoms of 2-BE exposure. Long term repeated exposure has even been linked to blood disorders such as anemia.
By contrast, our multi-surface cleaner works effectively to remove dirt and grime, but is made entirely of plant-based active ingredients.
If you were to compare each bio-home product with common grocery store cleaners you would be amazed by the difference. Not only are bio-home products effective at keeping your spaces spick and span, but the unique phthalate-free fragrances also make your home refreshed and inviting.
Effective cleaning
There is a common misconception that chemical-based cleaners give a deeper clean or work faster and more effectively to kill germs. But green cleaners are proven to work just as well to clean the home and come with a number of advantages. Using green cleaning solutions leads to a healthier home and a safer environment. Switching to greener methods helps reduce pollution to the waterways and the air, minimises climate change and produces less environmental waste.
Brightly coloured bottles promising a quick fix to germs aren't all they're cracked up to be. Sure they'll clean, but at what cost?
For our Complete Laundry Guide with all the info you need in and around the laundry, have a look at the think!