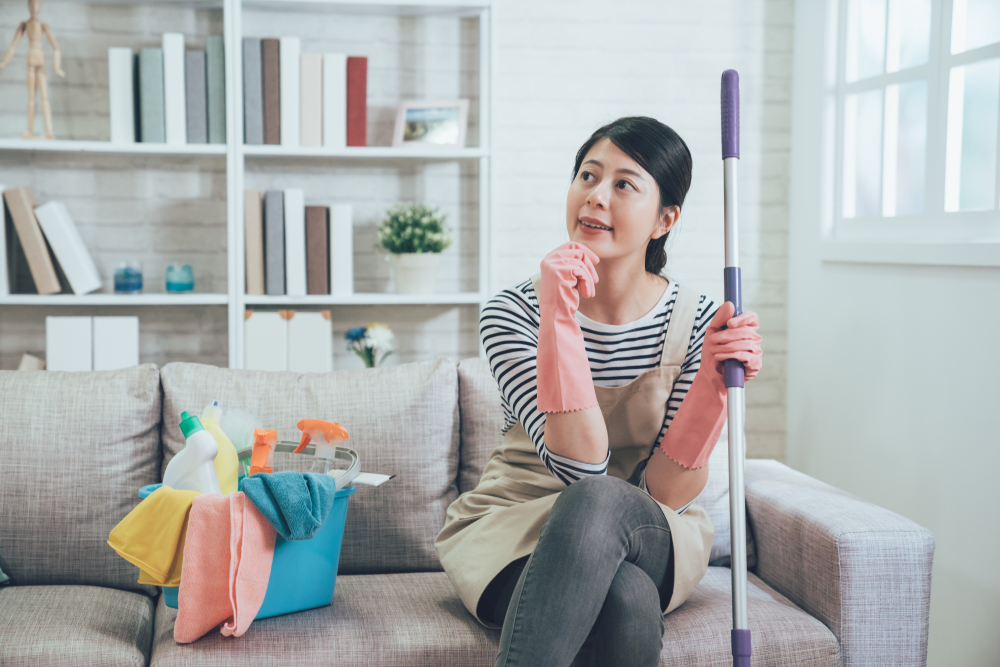 Feb
21
2019
Your Cleaning Toolkit: Buying Guide
Everyone wants to live in a lovely, clean home. But what tools do you need to ensure you're not only cleaning the home, but also caring for the environment and those around you? Getting this right will ensure you're cleaning your home efficiently and effectively.
Here's a list of what cleaning tools you'll need for each area of your home:
Common areas
There are some tools that you'll need in almost every common area of the house.
A microfiber cloth –

this is an ideal way to wipe down any and every surface as the cloth can be washed hundreds of times. It's also soft so it won't scratch surfaces and it's environmentally-friendly. Grabbing one of these also saves your wallet from continually purchasing disposable wipes.

An extendable microfiber duster –

this one does the same job as the cloth and more. Being extendable means you can dust ceiling fans, hard to reach corners of the ceilings and even behind furniture.

Abrasives –

there will be tough stains you won't be able to clean with a simple wipe down. This is where the abrasive cloths come in. They can be used to clean wooden or metal surfaces but just remember to spot test a small area to make sure you're not removing any of the varnish.

Brooms, dust-pans and brushes –

this one seems kind of obvious but it's still essential. It's a good idea to have a couple of options here. A normal broom that you can use on the hard surfaces, a long dust-pan and brush so you don't have to bend and a traditional dust-pan and brush for the small messes that you quickly want to clean up.

Some old towels or rags –

never throw away your old towels. They can be cut up and used as rags.

Vacuum cleaner –

there are lots of options for vacuum cleaners and it largely depends on what kind of floor and cleaning needs you have. Some homes will require larger heavy-duty, corded vacuums, especially if you have children or pets, while others can make do with small cordless, stick vacuum cleaners.

Gloves –

if you don't want to get your hands too dirty, it's a good idea to grab some gloves. While some will go for disposable, there are options that are more environmentally-friendly or those that can be washed and used again.
The kitchen
It's the room where pretty much all food and drinks will be prepared so it's crucial to ensure you have the right cleaning products here.
Microfiber cloths –

like those you'll use in the other areas of the house, microfiber cloths will be your new best friend in your kitchen. Wipe down counters, cupboards and even the outside of appliances. They'll catch the dust and lint and leave a shine that's simply not possible with traditional cloths. You can also use the cloths to clean the faucets and taps.

Mop and floor squeegee –

The mop can be used on most floors and generally, they'll include washable heads and pads. Use the mop to wipe up spills, stains, dust and dirt. Use the floor squeegee to push water away and dry difficult to reach places like the lower areas of grout and uneven surfaces.

Abrasive cloths and sponges –

these can be used to clean the grease and baked-on food from your oven.
The bedrooms
It's meant to be a relaxing retreat for sweet dreams and rejuvenating sleep so make sure it's the bedroom you deserve.
Microfiber cloths –

hi there again. Use them on bedheads, chests of drawers, dressing tables and any other surface in your room. They can even be used to wipe down window sills and blinds, bedside tables, televisions and mirrors.

An extendable microfiber duster –

if you have ceiling fans, this is a necessity in a bedroom. Ceiling fans collect dust so be sure to have something on hand to easily reach them. The microfiber cloth will catch the dust without it going everywhere. You can also use the extendable duster to clean the doors, cornices, window mouldings and corners of the room.

Vacuum –

regardless of what kind of floor you have in your bedroom, a vacuum is a must to ensure they look in tip top shape. Carpet and rugs need a little bit of extra TLC when it comes to vacuuming. Some vacuums will also come with an upholstery attachment. This can be used on your mattress to make sure it's cleaned properly.

Microfiber mop –

use these on those bedrooms that have hardwood floors or tiles.
Cleaning your home doesn't need to be a tough task. If you have the right tools and the correct products, it can actually be quite a simple job. You'll even find, if you use high-quality products and the most effective tools, cleaning will become a much faster chore than you originally thought.
Want to make sure that your home is clean while also caring about those around you and the environment? Bio-Home offer cleaning solutions which are biodegradable, renewable and eco-friendly, made from 100% plant based active ingredients! Find out more today!