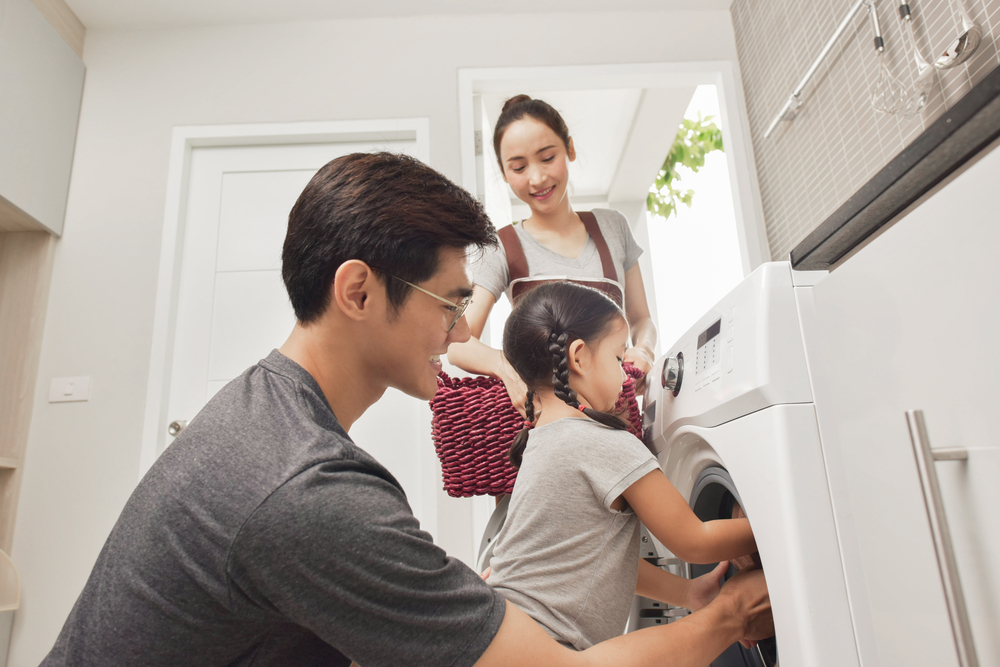 Jun
01
2019
How to Prevent Your Clothes From Shrinking, Stretching and Fading
A chart from DBS shows that Singaporeans spend 6.7% of their income on clothing, footwear and furnishings. Could you reduce this amount if you took better care of your clothes?
Fashion is an investment, and with every investment comes proper maintenance. Follow the correct maintenance principles, and your clothes continue looking good as new. Principles include:
Don't overwash clothes – instead, spot clean when you can

Read the labels of your clothing and follow advice

Use a mesh bag for delicates

Air dry as much as you can

Hang or fold your clothes as soon as you remove them from heat (sun or dryer)

Don't overcrowd your wardrobe – cramming clothes together wears down sensitive fabrics

Fold clothes at the seams to avoid unwanted creases

Clean seasonal clothing before storing

Pretreat and condition your leather items
Follow these principles and longer-lasting clothing means more money in your pocket. Take it further by:
Avoiding shrinkage
There are three types of clothing shrinkage: felting, relaxation and consolidation. Felting occurs when animal hair fibres, like wool, are exposed to moisture and excessive heat. Relaxation occurs when the fabric is placed in tepid water for too long. Consolidation occurs when moisture, heat and mechanical action are combined.
The most susceptible fabrics in terms of shrinkage are natural fabrics such as cotton, wool and linen. The level of which they shrink is established long before you get them home. If an item is labelled "preshrunk", the fabric has already been exposed to consolidation shrinkage before being cut and sewn, so will, therefore, be less likely to shrink.
Even so, you should:
Choose a good laundry detergent
Bio-Home Delicate Laundry Detergent is suitable for all types of fabrics and can be used with both top and front loading washing machines. Specially formulated using biodegradable ingredients, it's ideal for washing delicate clothing such as baby fabrics, silk, wool and underwear. 
Garments undergo stretching from agitation, spinning and tumbling in the washing and drying process. Bio Home Laundry Detergent uses Plantmoist to naturally lubricate, restore and support the fabric of your garments, making them more fluid and flexible, allowing them to return to their original shape when dry.
Wash with cold water
While cold water doesn't guarantee less shrinkage, it's not as damaging on the fabrics as warm and hot water are. Hot water can cause your clothing to relax and release tension, resulting in the fabric being misshapen.
Keep heat low
Air drying is always the best method when it comes to drying clothes but we understand that air drying isn't always possible. If you must use a dryer, select a low heat on the machine and take the clothes out while they are still slightly damp. This will prevent your clothes from overdrying.
Choose a gentle cycle
Clothing often shrinks because of stress on the fabric and seams during the spin cycle. The longer the spin cycle, the more pressure is put on your clothing. Select a gentle or delicate cycle, especially when washing cotton, wool or cashmere.
Hand wash delicates
If you have clothing you're particularly concerned about, wash it by hand or have it dry cleaned. Handwashing keeps colours vibrant, protects the shape and extends the life of your clothing. For more tips on delicates washing, click here.
Avoiding Stretching
Stretched clothing can be just as much of a nightmare as shrunk clothing. Your favourite t-shirt is now baggy, the neck of your blouse is loose and your sweater arms now hang past your hands. Fortunately, avoiding stretching is simple.
Lay clothes flat
Lay knits and cottons and heavy clothes like sweaters flat on a laundry screen or a towel rather than hanging them up to dry.
Hang carefully
When hanging clothes in your wardrobe, use hangers that fit well. Never force a hanger through the neck of a top, instead tuck the hanger up through the bottom until the hook emerges from the neckline.
Fold heavy items
Folding heavy items and storing them flat will help keep their shape. This is true of cotton t-shirts too.
Avoiding fading
To keep your favourite red shirt from becoming a pink shirt and your little black dress from becoming a grey one, it's important you take steps to prevent colour fading. You can do this by:
Separate lights from darks
Dark items, no matter what you do, tend to bleed colour into lighter fabrics. This bleed can turn a bright orange pair of leggings into a rusted, muddy looking pair. Always wash darks with darks, lights with lights and whites separately.
Wash with cold water
If you don't have enough for a load and therefore must place all your items in together, wash using a cold wash. Warm water breaks down fibres, causing the colour to run and fade.
Turn garments inside out
Protect the outer fibres from being worn down in the wash by turning your clothes inside out before washing. If the fibres on the inside get worn down it's not the end of the world as nobody will see this.
Use the right soil setting
If your clothes aren't all that dirty, don't select the heavy wash setting. Your clothes won't come out any less clean and they'll have a lot less pressure placed on them.
Whether it's protecting from general wear and tear, shrinking, stretching or fading, Bio-Home Laundry Detergent and Bio-Home Delicate Laundry Detergent support you to maintain the colour, fit and life of your clothes. Check out the full range of Bio-Home products today.