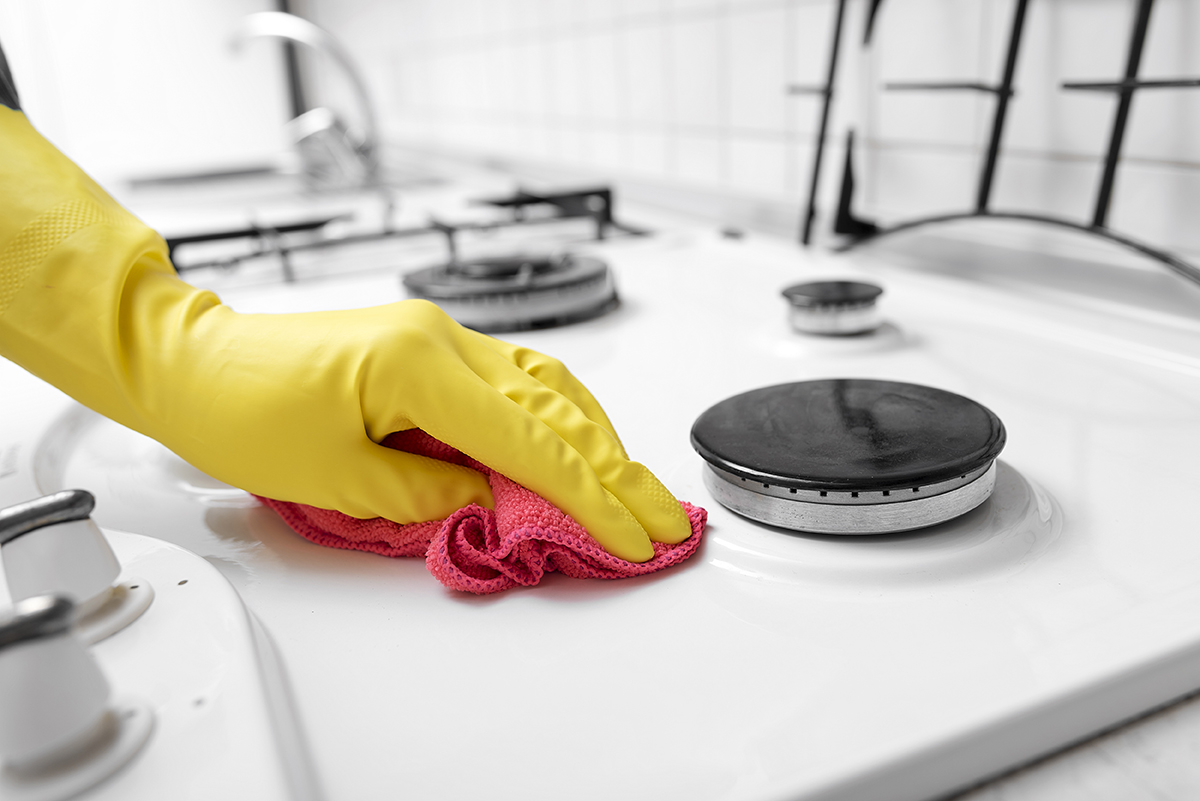 Mar
25
2019
Quick Tips for Cleaning Your Kitchen Stove and Microwave
Our kitchen appliances work hard for us, preparing our meals day in and day out. But we don't always look after them as well as we should, allowing dirt, grease and grime to build up on our stoves and microwaves.
Ideally, we should wipe them down after every use, but we don't always have the time or the inclination after preparing a meal, so if your stove or microwave has become a bit of an eyesore, here are some handy cleaning tips to help restore its original shine.
Tips for cleaning stoves
There are three main areas of a stove that need cleaning:
the enamel or porcelain surfaces
the electric or gas burners and rings
the racks and drip trays under the pots and pans
Here's how to clean each using a variety of methods…
Cleaning enamel and porcelain surfaces
Start by scrubbing surfaces with hot, soapy water to loosen any dried food. Allow to dry and then scrub again with hot, soapy water to remove any large pieces. For stubborn food stains, sprinkle baking soda generously over the surfaces to be cleaned and then spray with hot water until the baking soda has all dissolved. Leave to soak for about 30 minutes and then scrub.
Don't want to scrub but need a solution that's tough on grime and stains? While many of the cleaning methods described here involve natural ingredients, if you want natural cleaning without all the fuss, then bio-home Kitchen Cleaner is the easy way to clean kitchen surfaces and appliances.
Made from non-toxic plant-based ingredients, it removes tough grease and grime without the need to rinse. Just spray and wipe light stains with a clean cloth, spray and leave tough stains for 30 seconds more before wiping.
bio-home Kitchen Cleaner is also kind to the skin and is better for the planet with no toxic chemicals or ingredients!
Racks, rings and drip trays
Due to the metals used in these items, you may want to use some of the following natural products to clean:
Vinegar – cover them with reusable cloths and soak with white vinegar. Let sit for several hours then remove the towels and scrub to loosen the dirt.
bio-home dishwashing liquid – boil water in a large pot, add bio-home dishwashing liquid, use tongs to place the items in the pot and boil for 10 minutes. Turn off the heat, cover and leave few a few hours or overnight. Remove the items the following day and scrub them with hot, soapy water.
Cream of tartar and vinegar – make a paste of cream of tartar and vinegar (50/50) and spread liberally over the items. Leave to sit for 10 minutes, then scrub.
Tips for cleaning microwaves
You can clean your microwave's surfaces by wiping down the outside, inside and glass tray with bio-home Kitchen Cleaner. This will get rid of grease, and won't leave a residue so no need to wipe down afterwards. The easy-spray bottle comes in two pleasant phthalate-free fragrances: Lemongrass & Green Tea and Lavender & Bergamot – so it'll smell good also!
Spray and leave for a minute or two for tough stains and then wipe away.
Looking to have the cleanest microwave? There are several additional things you can do to clean stubborn stains and getting rid of lingering smells in a microwave and all are less labour intensive than the methods used for cleaning stoves, as the power of the microwave can be harnessed to help break down the dirt.
Vinegar – pour one cup of white household vinegar and one cup of water into a bowl, place in the microwave and run for about 8 minutes. Then remove the hot bowl using an oven mitt and wipe down the insides of the microwave with a wet sponge. The steam should have loosened the dirt enough to easily wipe off without needing to scrub.
Essential oil – place about 5 drops of lemon essential oil in a spray bottle filled with water and spray the inside top, bottom and sides of the microwave. Place a wet sponge in the microwave and run for about 2 minutes. Once the sponge is cool enough to handle, use it to wipe out the dirt, which should come straight off thanks to the loosening effects of the steam.
This steaming method can also be used with other ingredients diluted with water such as lemon juice, but commercial cleaning products should not be used in this manner.
Natural cleaning made easy
Making sure your appliances are clean and free from food and grease is simple with natural cleaning products from bio-home. We know that the kitchen is the heart of the home, so keep it fresh and ready to prepare your next meal by wiping down grime and stains with a natural and easy solution.